Time got away from me today. I had two different people call me that took up a majority of my time. I got a call first from a gentleman down the street. He's 87. He likes history, and the history of our little town. He talked my ear off for 72 minutes with minimal grunts from me, then at the very end let me know he needs some photos done sometime soon. He ended every sentence with "are you getting this" or "and so on" or, my favorite, "now are you catching on?" as if the stories he's telling me had some ongoing conspiracy I am now privy to. THEN some other guy, who isn't nearly as old or as cute just for being old, called to ask about photo stuff. My DH knew who it was, knew what I was in for, and snickered while handing me the phone. What kills me about this guy is that he wants to talk "shop" about photography but he really just very lonely and not much of a photographer. He's a really nice guy, both are, but my ear was getting sweaty and my neck hurt. I can't be mean. I really want to stop publishing my phone number....would that work for a business. I feel obligated to allow these people to monopolize my time, this is such a small town that I'd end up burning more bridges than I care to. And people around here remember. Everything. For. Ever. Any suggestions for getting these people off the phone?????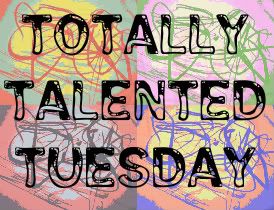 But I digress.... Today is Totally Talented Tuesday. This week I bring you my 7-year-old's artwork. And her sense of humor. If you ask her what she wants to be when she grows up she wants to be an archaeologist. She also wants to be an artist and a photographer. I told her she could actually do all of that. She's totally pumped to go to college. I hope it lasts.
Here's AM painting her Egyptian Sarcophagus box. She found the idea in a kids Egyptian book.

Then she decided she needed a moustache. Love it.

There are talents abounding at Two of a Kind, Working on a Full House!

And then there is, of course, Tempt My Tummy Tuesdays.
I just made this the other day and pretty much ate it all myself. I'll make more, to be sure:
Apple Dip
8oz (1 pkg) cream cheese, room temp
1 tsp vanilla extract
1c sugar (part brown, part white sugar to your taste)
1 pkg Heath Toffee bits w/ chocolate (It's just as good w/ half and a bit cheaper!)
Mix in resealable bowl, serve with apple quarters.
I usually give up on the apples and start in on it with a spoon. This ultimately requires an intervention by my husband. YUM! There are more tempting recipes at Blessed With Grace.