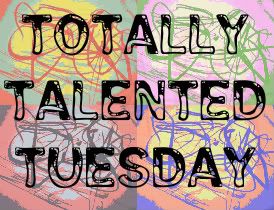 For Totally Talented Tuesday I must nominate PM. She did something last night that I found totally awesome. She got undressed. OK, I know for all you moms of 2 1/2 year olds this is no big deal, in fact you've probably been trying to keep them from continuing to do it. The thing is, as most of you know, PM has hemiplegic CP. Her right side doesn't work very well for her. The fact that she managed not only to unzip and strip, but to unfasten a diaper was WAY cool. We have been working for quite some time on the dressing and undressing. She still can't push her right arm through a long sleeve or coat without major assistance. So I say GO GIRL!! Way to take your clothes off! You can guarantee that I WILL NOT be saying that to you later in life. I hope.... Check out more great talent at Two of a Kind, Working on a Full House.

on to Yummier things...
Tempt My Tummy Tuesday
This recipe came direct from an Indian cuisine kitchen, I call it my husband's, but I made it myself last week and it is soooooo gooood. It's more involved than most of the recipes I like, but well worth it:
1 lg onion, chopped
4 tbsp sesame oil (very important for flavor!)
4-4 1/2 c. vegetable broth
4-5 med carrots, grated (1 3/4 c.)
1 1/2 tsp curry powder
1 tsp dried thyme
1 bay leaf
1 pkg (8 oz) cream cheese, cubed
1/4 - 1/2 tsp salt
1 can (14 1/2 oz) diced tomatoes WITH mild green chilies
dash cayenne pepper (to taste)
sour cream (garnish)
In large saucepan, saute onion in oil. Stir in the broth, carrots, curry, thyme and bay leaf. Bring to a boil. Reduce heat, simmer uncovered for 25-30 minutes or until carrots are tender.
Discard bay leaf and add tomatoes. Cool slightly. Transfer half of soup to blender or food processor. Process until smooth. Pour into soup pot or dutch oven. Repeat with remaining soup and add cream cheese. Combine with soup in pot. Heat through. Stir in salt and cayenne pepper. Serve with dollop of sour cream, garnish with chives or minced parsley.
YUM!