I'm combining two in one today. Totally Talented Tuesday comes from
Two of a Kind, Working on a Full House
- nominate the kind of talent we can all appreciate!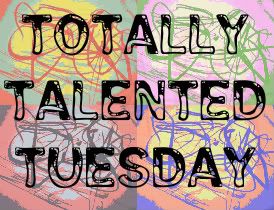 AND Tempt My Tummy Tuesday from Blessed With Grace. Leave your recipe to share with all your bloggy friends!


I am giving myself this Totally Talented award as I am a terrible cook without very specific instruction. I give my husband all credit toward anything I've picked up in the kitchen. No offense to my mom, she can make all sorts of yummy dinners, I just never really caught on until it was too late and I was married and cooking for my kids. My DH can cook like nobody's business, and when the two of us are together I leave the cooking to him (or he'd have to eat whatever I concoct - it's sort of a running threat). ANYWAY, DH is gone this week, so I whipped out a book and made this:
(Easy) Cheesy Potato Soup
2c. Water
2c. Potatoes, peeled & cubed
3 Tbsp butter or margarine
1 sm onion, chopped
3 Tbsp AP flour
Black Pepper to taste
3c. low-fat milk
1/2 tsp sugar
1c. shredded cheddar
1c. cooked ham
Directions: (I doubled this recipe)
1. Bring water to boil, add potatoes, cook until tender. Drain & save liquid ( should be 1 cup - add water if needed)
2. Melt butter in saucepan, med heat, add onion & cook until tender, not brown. Add flour, season with pepper, cook three to four minutes.
3. Gradually add potatoes, saved liquid, milk and sugar to onion mixture; stir well. Add cheese and ham. (I had no ham, I used about 1/2 c. bacon from a pack of "ends & pieces", you can cut off all the fat and use only meaty parts, DH does this any time we use bacon)
4. Simmer over low heat 30 minutes, stirring frequently.
Supposedly makes 10 servings - but I doubled this, fed me and 3 kids, and would have had very little left over if DH were here.
My kids actually ate this, it was GOOD!! - so YAY ME! Somebody liked what I cooked!!!