~~~ CONTEST CLOSED - WINNER ANNOUNCED 5/4/09! ~~~
Here it is, the week of my "Blogoversary"! You can read my very first post
HERE
. I started this blog to journal about my kids & family. It's been a great way to meet new people, some who are going through similar experiences, some who already have, and some who soon will. I've cried and laughed reading stories from around the world, and close to home. My heart is full. Being a mostly-SAHM this year has really not seemed too secluded when I get to know all of you.
I was moved to help out one new friend in particular. I found a way to do something special...
I made a special pendant just for Cole, a beautiful little boy who has cerebral palsy. You can go to Cole's blog and read all about him
HERE
. I've gotten to know his mom and we admittedly chat more often lately than I've been able to with my own husband (who is on duty with the national guard). She has really helped me keep my sanity!! When you purchase COLE's pendant from my shop, $4 goes to his Special Care School fund! He & his family need our help to keep him there where SO much good is being done! Any family with a disabled child knows that it can be difficult sometimes to finance all the special care and equiment they need. This is a way we can all help AND get a totally cute pendant too! As a bonus, if you ask me I will, at no extra charge, personalize the pendant with YOUR CHILD's name!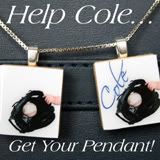 I will be offering this pendant TO YOU with YOUR choice of photo AND A CHAIN! The contest ends 11:59 PM CDT on May 1, 2009.
Rules:
Leave each entry in it's own comment to be counted accurately!
First, please visit my ETSY SHOP HERE (http://affectionatelyyours.etsy.com/) and tell me one OTHER pendant you really like. :) This must be your first entry.
Extra Entries:
Follow me on my blog and leave a comment letting me know you have. If you already follow me, leave a comment saying so!
Follow me on Twitter AND Tweet this giveaway. Make sure you do both, then leave a comment with the link to the tweet.You may tweet once a day during the giveaway for one exra entry. Don't forget to comment!
Grab my button and display it on your site! Leave a comment to let me know where to find it!
For TWO extra entries, add the Cole's Pendants button to your sidebar and leave a comment x2 telling me where to find it.
For THREE extra entries, link this giveaway in a post on YOUR blog! Leave a comment x3 with a link to the post you've created.
For THREE extra entries, purchase something from my shop, leave me a comment x3 (this is for your entire purchase, not each item purchased!!).
For FIVE extra entries purchase a COLE or CAROLINE tile from my shop, leave a comment x5 (this is for your entire purchase, not each item purchased!!).
Good luck and thanks for playing!!