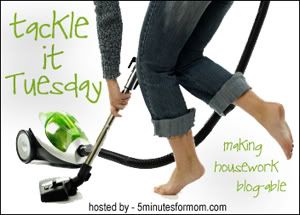 I figured the only way to stay on task was to blog about it, and 5 Minutes for Mom happens to have the remedy: "Tackle It Tuesday".  Perhaps you saw a taste of what I was in store for last week with my kitchen photos.  I decided today was really the day.  I need at least one clean room in this house!!  So here's some before shots (these look better than last week!):
After the kitchen had been literally shoveled out from the debris of the ceiling, there were chunks of plaster everywhere.  Water and dirt had dried to the floor. Yuck.  I started at the top and worked my way down to the floor.  I hauled out 2 large bags of junk and that big trash can full of plaster and wood pieces.  It took me most of the day…but I got it done!!
I have to say HOORAY! for Mr. Clean with Febreze (Meadow and Rain scent, and no, I'm not advertising), that stuff was so nice!!  I was getting really tired of that yucky dirty water smell and the Mr. Clean really did the trick.  I had to haul the buckets of water from upstairs, this sink still isn't working.  What I still need to tackle:  The front of the fridge! But I need some sleep first!