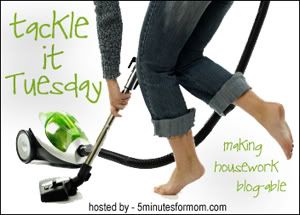 My house is still a disaster, I figured the only way to stay on task was to blog about it, and 5 Minutes for Mom happens to have the remedy: "Tackle It Tuesday".  Now, I have to admit that this week's room of choice has been a long standing sore spot around the house.  We just had major water damage and work to do on the main floor, but this room is on the third floor.  (Yes, we have three full floors – no wonder I get behind!)  The shape of this room is embarrassing, but at least we're not on "Hoarders" quite yet.  JC's room, formerly the "toy room" or as we used it, the dump-it-in-there-if-you-don't-know-what-to-do-with-it room began it's life as an extra room where we stored boxes we hadn't gone through after we moved.  That was now 5 years ago.  I am standing firm on the new pledge:  If we haven't needed it in 5 year, we probably never will.  Time to purge!!!  With that in mind, here's the room:
Anyone who's been to our house recognizes this garbage dump as the "toy room".  The black hole of toys.  I decided to just start at the door and tie a rope around my waist and make my way to the back.  On one side of me a garbage bag, the other side a tote for actual "keeper" toys.  When the kids would come to see what was going on, I swear they thought it was Christmas.  Long lost toys reappeared.  Some we parted with and donated, others we decided were trash.  This was much more than a one-day project.  I am proud to say we made it out alive!!
We bagged up two large bags of broken toys and empty boxes.  I found two disgusting sippy cups that also got trashed.  JC has a cute crib bedding set that I was finally able to use, complete with a matching valance.  Now all this room needs is a good color to be painted…. any suggestions?