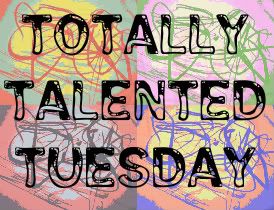 Totally talented Tuesday comes from Dee at Two
of a Kind, Working of a Full House
. You can nominate any talent you see fit...a new sewer, a karaoke singer, a wonderful first grade painter...its up to you. See where others have found talent at Dee's site!

This week AM took my sewing machine for a spin for the first time. She has seen me at it on many occasions and has often asked to try it out.

I had left over fleece so I gave her the basics and let her run 3 straight lines to make a "sleeping bag" for her Husky (Webkinz).
She was so happy with herself, she made one more for a friend.

Cute huh??

I believe she's planning on making something really elaborate next, like clothing for her Husky.
I said "we'll see"
There are lots of yummy recipes at Blessed With Grace!
This week it's an easy one...and requires leftover coffee. My hubby and I often put on a pot, we're not every-day coffee drinkers and we usually don't finish a pot unless we both work on it. This is a good way to use up that last cup!
Mocha Shakes (for one - add more to share!)
2-3 scoops vanilla ice cream
1/2 c cold coffee
2-3 tbs chocolate sauce to taste (I prefer real Hershey's)
blend in blender (or the Magic Bullet!!!) & enjoy!
I had one last night when I made the kids regular chocolate shakes. Mmmm... I sucked it down before I thought about taking a photo of it. It looks like a chocolate shake in case you were wondering!