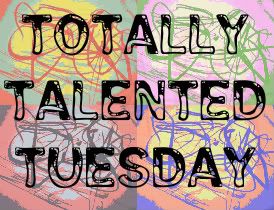 This week I have to hand it to PM who cut with scissors for the first time! She is with her occupational therapist here using scissors with a plastic loop-thing on the back side that springs the blades back open. She tried with both hands.
They then used the cut pieces to stick on a sheet of clear contact paper and make a valentine!!
AND built a heart from these funky block...whatever they are...
PM has been a real trooper lately with her therapy and always has such a good attitude! It really helps when she has people working with her that make it fun and love what they do! I actually got a note from an OT student via
YouTube
who wants to use a couple of her videos for a speech she is doing at a hospital to tell them about the benefits of
CIT
in children!! Cool, huh?!
Next up...yummy stuff
This is a quick one.


Tempt My Tummy Tuesdays come from Blessed With Grace. Go see more tasty recipes!!

My husband came up with these little treats. PM is not too keen on the full sized tacos we make, even in the flour tortillas we usually use. Rather than make an entirely different meal (something we agreed not to do with our kids) he made these:
Taco Bites
the nice thing about these is that they can be leftovers in any amount
"Scoops" Tortilla Chips
Seasoned Taco Meat (we use the powered mix packets often)
Cheddar/Mozzarella Shredded cheese
Taco Sauce
Just spoon taco meat into each tortilla chip, top with cheese and other desired toppings. Bake on cookie sheet until cheese melts. Enjoy with or without taco sauce! These can easily be done in the microwave as well. Happy snacking!