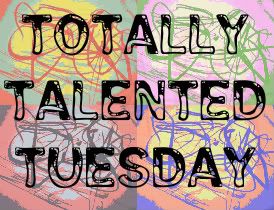 See some talent at Two Of A Kind, Working on a Full House

Yeah, so I'm on my way to dropping off kids at school and I can see all the water flowing down the street. Our entire weekend was filled with listening to radio and TV and hearing how Fargo, ND (yes, or secret cover is now blown) is preparing for possibly the biggest flood in recorded history. They've called off classes at the universities and have allowed even high schoolers to go volunteer to fill sandbags and go out in groups to the community and prepare the fortress walls. I remember being in college in 1997 when the last big flood happened. The crest of the river this time is projected to be a full foot higher!

The flood of 1997.
I'm nominating the youth of the Fargo this morning for Totally Talented Tuesday. They came out in record numbers and filled many many more sandbags than the crews had hoped for. The filling stations remained staffed throughout the night into the morning. They typically use these huge machines to shoot sand into waiting bags held by volunteers. There were so many students to help that they set up a third site for volunteers to use good old shovels and twist ties to fill bags.
This photo is from this morning's Forum. They are in the Fargodome, where the college football teams play and concerts are held. (photo Michael Vosburg / Forum Photo Editor )
I drove back to our little town from Fargo last night. It was pouring rain and the light from my headlights seemed to be sucked up by the fog. On the way there I noticed places where the water had skirted along the sides of the road from the full ditches. I was white knuckled as I puttered along at 40 mph just waiting for that spot in the road where the water had finally taken over. I pictured me with four kids in the back seats trying to drive across and being swept away or something. I am happy to report that we made it home safely. Our yard is a swamp we had to squish through to get to the door. But we made it.
This morning the yard looked better. I wondered where all that water went?
Found it.
There's a foot and a half of it in our basement. Gotta go.....