Earlier this week I started to tell PM's story
HERE
. Here's a few more facts about Hemiplegic Cerebral Palsy:
IS HEMIPLEGIA A PROGRESSIVE CONDITION? No hemiplegia is not a progressive condition, nor is it a disease. As children experience growth spurts, they may have more problems with muscle spasticity, but this does not mean that the initial injury has gotten worse.

ARE THERE TREATMENTS FOR CHILDREN WITH HEMIPLEGIA? Children with hemiplegia cannot be "cured", but therapies can help with some of the symptoms. Medication can be prescribed for seizures. Orthotics, braces, and splints may help with spasticity and gait (walking).
The average prevalence of cerebral palsy is about 1 in 278 children. This first report of the prevalence and characteristics of CP, the most common cause of motor disability in childhood, are from Georgia, Alabama and Wisconsin. Can you even begin to imagine the numbers if there was a national surveillance?
Now that we have a diagnosis, let me tell you a little about what's gone on this past year. PM sees an Occupational Therapist, wears AFO braces, walks (she's still quite a bit more "clumsy" than kids her age), is talking (I interpret often for Dad) and we are so very fortunate not to have any seizures so far. I've put a little more detail
HERE
about what we've been doing.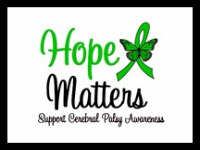 Our friend at
Life of Logan
is hosting a giveaway in honor of Cerebral Palsy
Awareness Day. Please visit them to see how you can send your support and read more about CP!
Please also visit these friends: